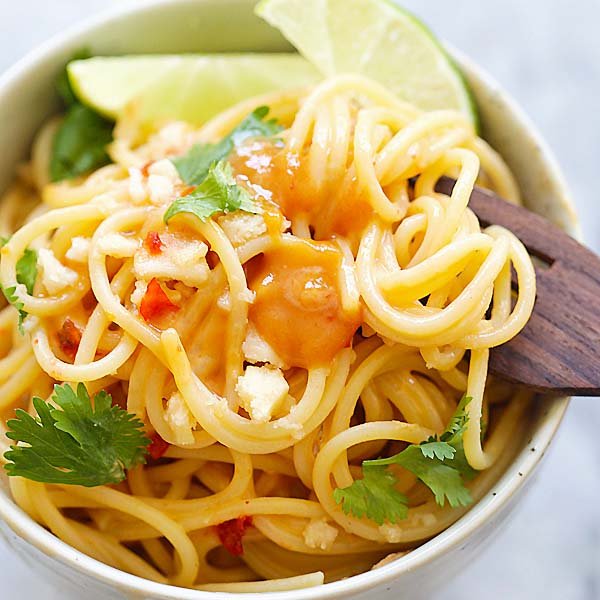 Thai Sweet Chili Peanut Noodles
Thai Sweet Chili Peanut Noodles – quick noodles with a creamy and spicy Thai peanut sauce. Four ingredients and 15 minutes to make
Prep time:
Cook time:
Total Time:
Makes2
Ingredients:
8 oz spaghetti
3 tablespoons creamy peanut butter
3 tablespoons Thai sweet chili sauce
1 1/2 tablespoons Apple cider vinegar
Chopped peanut or cashew nuts
Cilantro leaves, for garnishing
Lime wedges
Method:
Cook the spaghetti according to package instructions. Drain after cooking.
Add the peanut butter, sweet chili sauce and apple cider vinegar in a small sauce pan. Heat up on low heat, stir and mix well. In a mixing bowl, toss the spaghetti with the peanut sauce. Top with the peanut or cashew nuts and cilantro, serve immediately.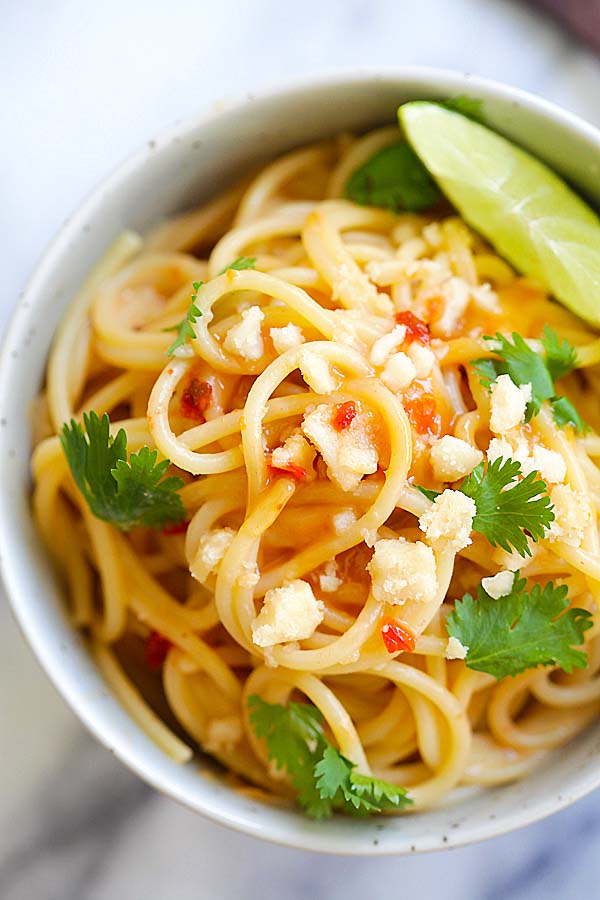 Thai Sweet Chili Peanut Noodles
Thai Sweet Chili Peanut Noodles – quick noodles with a creamy and spicy Thai peanut sauce. Four ingredients and 15 minutes to make, so good!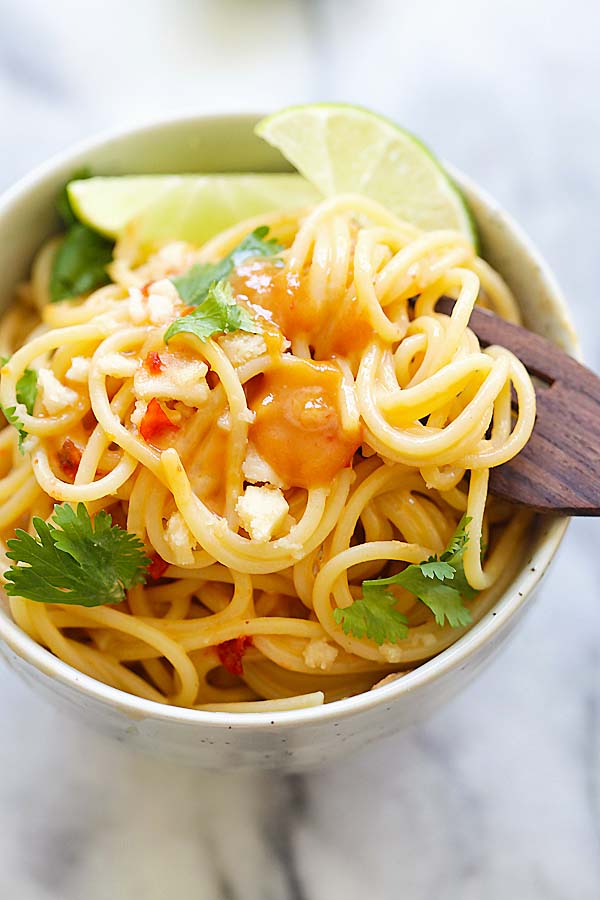 This Thai sweet chili peanut noodles are inspired by my friends at Cooking Classy and Diethood. I have seen their recipes and the peanut noodles made me hungry. Everyone loves some Thai flavors in their food, and this easy noodle recipe is absolutely Thai-inspired, but you don't need to trek to Asian stores to get all the ingredients.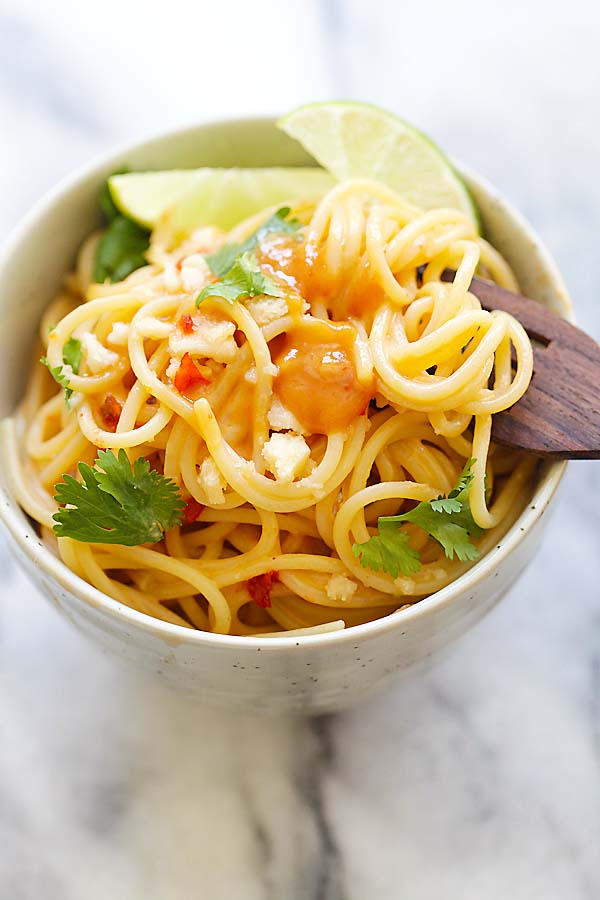 As the name suggests, this Thai sweet chili peanut noodles calls for only four key ingredients: noodles, Thai sweet chili sauce, peanut butter and vinegar. It's that simple! For the noodles, you can just use spaghetti because the smooth texture of spaghetti works so well with the creamy peanut butter sauce. What's more, there is no heavy cooking involved, just cook the noodles, make the sauce, mix and you're done!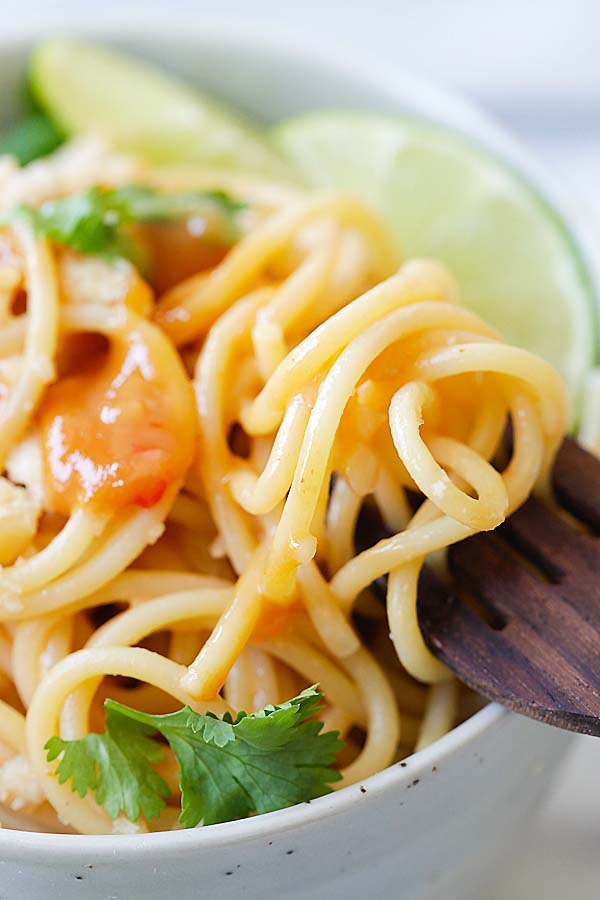 To serve, garnish some chopped peanut or cashew nuts, fresh cilantro leaves, and lime wedges. Squeeze some lime juice and you will have a zesty, creamy, and absolutely delightful Thai peanut noodle dish. This is especially tasty after chilling in the refrigerator. Enjoy!